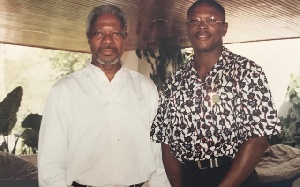 Veteran journalist, Kwaku Sakyi-Addo, has described the late former UN Secretary-General, Kofi Annan as a man who worked and lived for peace.
Mr Sakyi-Addo in a tweet said: "If anyone deserves to Rest In Peace it's Kofi Annan. He worked for peace. He lived for peace. He was a man of peace."

The Ghanaian diplomat died in Berne, Switzerland on Saturday 18 August 2018, at the age of 80.

Meanwhile President Nana Addo Dankwa Akufo-Addo has said he is saddened by the news of the death, Mr Annan.

In a statement, Nana Akufo-Addo said: "I extend, on behalf of the entire Ghanaian nation, our sincere, heartfelt condolences to his beloved widow, Nane Maria, and to his devoted children, Ama, Kojo and Nina, on this great loss. I am, however, comforted by the information, after speaking to Nane Maria, that he died peacefully in his sleep.

"Consummate international diplomat and highly respected former Secretary General of the United Nations, Mr. Kofi Annan was the first from sub-Saharan Africa to occupy this exalted position. He brought considerable renown to our country by this position and through his conduct and comportment in the global arena. He was an ardent believer in the capacity of the Ghanaian to chart his or her own course onto the path of progress and prosperity. Undoubtedly, he excelled in the various undertakings of his life, leaving in his trail most pleasant memories. His was a life well-lived.
"I have directed that, in his honour, Ghana's national flag will fly at half-mast across the country and in all of Ghana's diplomatic missions across the world, from Monday, 20th August, 2018, for one week.

"Rest in perfect peace, Kofi. You have earned it. God bless."


If anyone deserves to Rest In Peace it's Kofi Annan.He worked for peace. He lived for peace. He was a man of peace.? pic.twitter.com/wbmW7l0Ge0

— Kwaku A. Sakyi-Addo (@KWAKU101) August 18, 2018