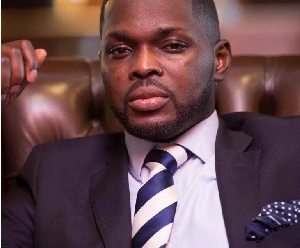 Twitter users in Ghana have taken a jab at Joy FM's Kojo Yankson for his question about resignation in the recent case involving Ghana's Ambassador to South Africa, Ayisi Boateng who was reported to have made some 'unfortunate' statements.
The media personality took to his Twitter account after news went round that the Diplomat had retracted the scathing comments he made early on and rendered an unqualified apology to that end.

The radio icon in his post indicated that, "His Excellency Ayisi Boateng has retracted and apologized. Will he also "resign" as Quaitoe did?".

The "Morning Man" had wanted to inquire whether the Ghanaian diplomat in South Africa was going to resign after his comments just like the Deputy Agriculture Minister, Hon. William Quaitoo did.

However, his question did not sit down well with many Ghanaians who took a swipe at the radio journalist for his question. Many users 'attacked' Kojo Yankson over his question and wondered if he resigned after his infamous 'chichinga' fiasco.

Some users quizzed if he (Kojo Yankson) had resigned from his post after he had apologized to Ghanaians for conjecturing some facts on how the Atomic Junction Gas explosion occurred back in October.
One Twitter user by name Yaw Asirifi Antwi commented on the post made by the journalist with, "Kojo Yankson do you have conscience at all? If you do why didn't you resign after your chinchinga embarrassment?".

Other Twitter users took the opportunity to 'wickedly' jab the morning show host on radio for his goof with the Atomic Junction explosion which came to be famously known as the 'chichinga account'.

It would be recalled that Kojo Yankson, in a facebook video gave his own chronological account of the happenings on the night of the gas explosion. His chronology was however debunked by staff of the Ghana National Service absolving the khebab seller of his involvement in the explosion as was earlier alleged.

This is how some Ghanaians reacted to the issue: