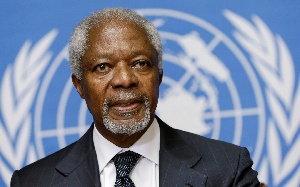 Former President John Agyekum Kufuor has said the ability of the late former UN Secretary-General, Kofi Annan, to rub shoulders with the whites should encourage all black people to aspire to greater heights.
According to him, Mr Annan, being the first black man to have headed the UN, is a great achievement for the entire African continent, an achievement that must be cherished.

Mr Kufuor noted that self-confidence among black people can be beneficial, as they seek to compete with their foreign counterparts in their various fields of endeavour.

"Kofi Annan was truthful in his dealings with people. He was also hard-working and that earned him praises from all quarters," Mr Kufuor told Chief Jerry Forson on Ghana Yensom on Accra 100.5FM Monday, 20 August.

He added: "Let us learn from his legacies, his attitude and character. He combined knowledge and good attitude and that propelled him to greater heights, we can all learn from his confidence."
"We all know that Africans were suppressed for a very long time, and if given this history, a black man in the person of Kofi Annan rose to become the UN Secretary-General, that can be a great achievement".

The Ghanaian diplomat died in Berne, Switzerland on Saturday 18 August 2018, at the age of 80.