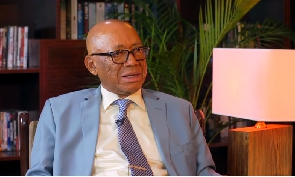 I don't blame Mr. Daniel Kwaku Botwe, the inimitably dynamic and progressive Minister for Regional Reorganization and Development, the least bit, for calling for the immediate scrapping of the December 17, 2019 Referendum that is laudably aimed at deepening the quality of Ghanaian democratic culture by the involvement of the legitimately registered political parties in the election of Metropolitan, Municipal and District Chief Executives, rather than the currently amorphous and patently and practically self-deceptive noninvolvement of the political parties (See "Dan Botwe Proposes Withdrawal of Dec 17 Referendum Over Alleged Attacks on Akufo-Addo" MyJoyOnline.com / Ghanaweb.com 11/21/19).
Patently and practically self-deceptive because the overwhelming majority of Ghanaian adults are officially registered members of political parties. As well, the current situation whereby the party in power appoints all the MMDCEs is thoroughly partisan and unhealthily vitiates or weakens the sort of balance that all enviably functional democracies require.

There can also be no gainsaying the fact that constituencies that are the traditional strongholds of either one of the country's major political parties, namely, the ruling New Patriotic Party (NPP) and the National Democratic Congress (NDC), tend to have overtly nonparty-promoted assembly and local unit representatives whose overt party affiliation or ideological suasion can be readily determined.

At any rate, I strongly disagree with Mr. Botwe that the Dec 17 Referendum ought to be summarily abrogated or scuttled merely because some impudent and thoroughgoing corrupt career politicians and their lockstep cronies among the membership of the National House of Chiefs (NHC) would have the morally and politically blighted status quo rigidly maintained because the latter serves the selfish and parochial interests of those who never really fought for the sort of civilized constitutional democracy that Ghanaian are currently enjoying, but whose robust and healthy prosecution has become the envy of the African continent.

We also know that the apparently entrenched and/or intransigent "NO!" electoral position taken by some of the leaders of the National House of Chiefs, chiefly has to do with their morbid but decidedly vacuous fear of losing grips of their statutorily entrenched 30-percent share of the right and power to nominate the unelected members of the District Assemblies and the lower governance unit representatives, so-called.

In sum, it all boils down to the perceived threat to the economic survival of these chiefs vis-à-vis the proposed reforms, a relatively minor problem which could be readily resolved by a fair remuneration of our traditional rulers based on a revenue-generation formula on landed property and other forms of taxation that can be amicably worked out between the NHC and the Ministry of Local Government and Rural Development, as well as other allied ministerial establishments such as the Ministry of Culture and Chieftaincy Affairs, or whatever nominal designation the latter portfolio may be called these days.
You see, the current "Afedeistic" attempt at throwing away of the proverbial baby with the bathwater is highly unlikely to redound to the sociopolitical, economic and cultural benefit of the country in the long term. Absolutely by no means ought we to predicate the admittedly epic battle on the deepening of Ghanaian democracy on raw anger or sheer conniption. Rather, what key political players like Mr. Botwe ought to be doing presently is to be advocating for a doubling of efforts at civically educating the overwhelming majority of underprivileged Ghanaian citizens, largely the working class on whose shrunken and bare-bone shoulders most of the economic burden of administering our current system of governance rests.

The people must be made to fully appreciate the fact that except for an insignificant few, most of our hereditary chiefs have not stood for the primary interests of their subjects. There is incontrovertible evidence that many of these chiefs have been smack in bed with these corrupt and unconscionable politicians in exchange for payola crumbs, even as the overwhelming majority of their subjects went to bed hungry and woefully lacking such critical amenities as good roads and sanitation facilities, a fee-free sound education system, viable healthcare facilities and ample employment opportunities.

This bleak state of irresponsible and cynical leadership, shamelessly paraded as Divine Kingship Rights, has to be promptly and therapeutically brought to a visionary and progressive end, if Ghana is to take its seat among the vanguard ranks of the most civilized democracies.

I am, however, disconsolately flabbergasted by the fact that stentorian, pontifical and morally grandstanding prominent jurists like Justice Emile Short, in particular, who has never missed any media moment to bitterly remind Ghanaians that President Addo Dankwa Akufo-Addo has been inordinately arrogated more powers than are deserving of a democratically elected leader by statute or our Fourth-Republican Constitution, has yet to step up to the metaphorical plate, in American baseball parlance, to remind freedom-loving Ghanaians that, indeed, the decision to have Metropolitan, Municipal and District Chief Executives elected by popular franchise is admirably tantamount to Nana Akufo-Addo's remarkable recognition of the fact that, like the President himself, local administrators of the people ought to be either elected or appointed by the people themselves, in order to healthily and wisely forestall the present inescapably counterproductive regime of having MMDCEs roundly rejected by the dozen in the pointless and fiscally wasteful manner of a Sisyphean nightmare.

*Visit my blog at: kwameokoampaahoofe.wordpress.com Ghanaffairs
By Kwame Okoampa-Ahoofe, Jr., PhD

English Department, SUNY-Nassau

Garden City, New York

E-mail: okoampaahoofe@optimum.net