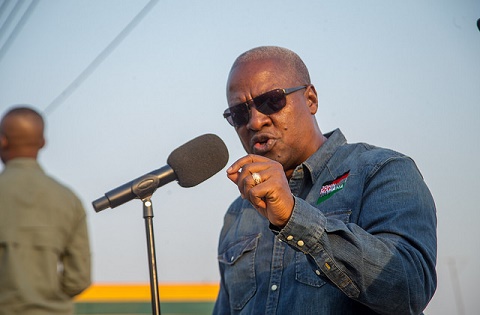 Former President John Dramani Mahama has backed the demonstration organised by the Ghana First Patriotic Front (GFPF) against the ratified Ghana-U.S. defence cooperation agreement.
The demonstration is taking place today, Wednesday, 28 March 2018.

Mr Mahama, in a tweet, said: "I join in declaring #GhanaFirst as my compatriots and other democratic forces converge to demonstrate their opposition to the Ghana/U.S. military agreement."

As part of the agreement, the United States of America's government will be spending $20million in training and supplying equipment for the Ghana Armed Forces (GAF).

Ghana has also agreed to bear the cost and take primary responsibility for securing US military facilities in the country.

The approval of the agreement was done by only the majority side of parliament with the minority staging a walkout.
The protest against the deal has the full backing of the main opposition National Democratic Congress, other political parties and some civil society organisations.


I join in declaring #GhanaFirst as my compatriots and other democratic forces converge to demonstrate their opposition to the Ghana/US military agreement.

— John Dramani Mahama (@JDMahama) March 28, 2018