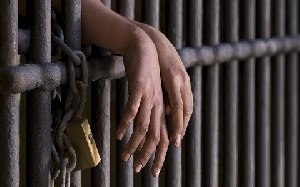 The 40-year-old man, who had sex with his two daughters and impregnated one of them, has been sentenced to 20 years' imprisonment by a Sekondi Gender-based court.
Joshua Mensah was convicted after he pleaded guilty to the charges of incest and defilement.

The Western Regional Police Command arrested Mensah for allegedly impregnating his 13-year-old daughter at Daboase in the Western Region.

The convict, according to sources, repeatedly had sex with his two daughters aged 13 and 10.

DAILY GUIDE learnt that the abominable act by the father was initially reported to the Daboase Police by the mother.

This was after Yaa Foriwaa, 31, who plies her trade in Accra, had visited the children at Daboase.

She realised that the husband had defiled the girls.
According to reports, Mensah started having sexual intercourse with the girls about a year ago and that he usually beat the girls whenever they resisted.

The 31-year-old mother could not hold back her tears when she spoke to journalists about the plight of her daughters.

According to her, she initially reported the matter to the Daboase queen mother who indicated that the man denied wrongdoing.

Madam Foriwaa subsequently reported the case to the Daboase Police who later arrested Mensah.

He was later handed over to the Domestic Violence and Victims Support Unit (DOVVSU) of the Ghana Police Service in Sekondi for further investigations.

DSP Frank Nana Assumaning, Western Regional DOVVSU Coordinator, who confirmed the arrest, explained that in 2017, Joshua Mensah took the two girls (name withheld) from their mother and defiled them continuously.