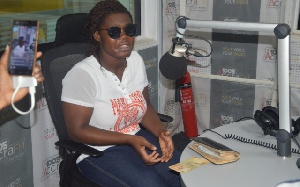 Prosecution and defence counsel in the Marwako restaurant assault case yesterday clashed over some narrations the victim had given to media networks in the country.
Defence counsel Mr. Augustine Osafo-Agyei had posed questions to the effect that since the incident broke out the victim, Ms. Evelyn Boakye, had narrated various accounts to the media.

According to the defence counsel, the Daily Graphic was one of the media, the victim had specifically spoken to.

He contended that he wanted to expose the discrepancies and inconsistencies in various narratives adding "we want to find out if evidence of the witness was discredited".

Prosecuting Chief Inspector, H. A. Hanson, objected to that line of cross-examination, saying those evidence were not before the court and would not allow the victim to answer that question.

The court presided over by Ms Victoria Ghansah overruled defence counsel mode of cross-examination, saying that the accounts were not before the court.

A 26-year-old Abelemkpe branch manager of Marwarko Restaurant Jihad Chaaban is being held for assaulting Ms Boakye, a caterer at the restaurant, by allegedly dipping her face in blended pepper splashed on a table.
He has been charged with assault, offensive conduct and intentionally causing harm.

He has pleaded not guilty and is on GHc20,000 bail with two surety.

At Monday's sitting at the Abeka District Court, Ms Boakye denied that the accused person came into the restaurant kitchen to put off the blender which was making too much noise.

The victim maintained that the blended pepper that the accused allegedly dipped her face had other ingredients such as onion, ginger, garlic and tomatoes.

According to her at the restaurant they blend various ingredients together adding it was not true that on the day of the incident she blended only onions.

She agreed with defence counsel that the blender which had been tendered in evidence was not faulty but it makes a lot of noise when in use.
The witness said it was not true that accused unplugged the blender when he first approached her at the kitchen.

According to the victim, she rather unplugged the blender and all the accused person did was to rain insults on her.

She denied that accused told her that the content in the blender was too much.

Witness disagreed with defence counsel that due to the shape and size of the blender her face could not enter it.

Hearing continues on March 22.