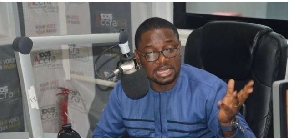 Jihad Chaaban, the Lebanese supervisor at Marwako Fast Food who forcefully dipped a Ghanaian kitchen staffer's face into a paste of pepper must be made to face and the law and be deported, Fred Abgenyo, a Deputy Communications Officer of the National Democratic Congress (NDC), has said.
According to him, this situation was unacceptable and, therefore, the perpetrator should not be allowed to go unpunished.

"I want journalists to go out there and speak to our compatriots working for foreign-owned companies about how they are being treated. They are really going through difficult situations, especially the women. The time has come for our leaders to rise and speak up against the treatment meted out to Ghanaians," he said, while contributing to a discussion on Peace FM's Kokrokoo programme on Tuesday 7 March.

"This man who treated Evelyn this way must be sanctioned severely and be deported so that he will go and continue this attitude there (Lebanon)."

Meanwhile, the Ghana Police Service has assured that justice will be served the victim.
The Public Relations Officer of the Accra Regional Police Command, ASP Afia Tengey, has revealed that the police will be meeting Evelyn on Tuesday, 7 March, and consider the action to be taken on the matter.

She told Chief Jerry Forson, host of Ghana Yensom, on Accra100.5FM on Tuesday: "We are meeting them, the victim, today. We will also meet the management of Marwarko depending on what the regional commander will deem fit. I will be very glad if this matter will be used as a test case because one cannot be treated this way in his or her own country by a foreigner or even Ghanaian.

"On our part as police, I can assure you that we are doing everything within every legitimate length to ensure that justice is served to this lady."