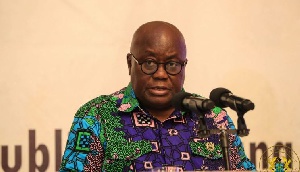 Many strands of empirical research have proven that even though an incumbent government has some advantages in elections, there are some disadvantages as well that can send a ruling party to the opposition.
And this is partly the reason why the National Democratic Congress lost the 2016 elections in Ghana – many of its supporters did not vote - their primary reason was that they did not benefit from their government.

Check this:

2012 Presidential Election Result

Mahama - 5,574,761

Akufo-Addo - 5,248,898
2016 Presidential Election Result

Akufo-Addo - 5,716,026,

Mahama - 4,713,277

The data above clearly shows that about 1 million people who voted for Mahama in 2012 did not vote for him in 2016. In my constituency, Kade for example, an NDC activist stopped his three children from voting during the 2016 elections. The children had travelled from Accra to the constituency purposely for the elections, and pleaded to be allowed to do what they had travelled for, but their father did not budge. His reason was that his children have completed university many years ago, and have been unemployed even though the party they love so much was in power.

It will be similarly accurate to say that what happened in my constituency was replicated in other constituencies across the country. Now, this heavy burden of incumbent government to satisfy their numerous supporters becomes even heavier when the party promises its supporters heaven on earth when in opposition; against this background, the ruling NPP government has a lot to worry about. Their supporters want the jobs and contracts they were promised. – and they want them now! Unfortunately, the party has failed in using suasion as a tool since their followers are already fed up with too many broken promises. And the signs of frustration and disappointment are beginning to show, making the NPP's electoral prospects in 2020 replete with danger signals.
On October 7, members of the Delta Force, a pro-NPP vigilante group chased out the MP for Tafo-Pankrono, Dr. Anthony Akoto Osei during a constituency meeting. The action of the aggrieved young men was because of the many failed promises made to them ahead of the 2016 elections

In another instance, angry youth of Ekumfi Ayisam in the Central Region chased away their MP, Francis Kingsley Ato Cudjoe, over alleged failed promises. There are more: not too long ago, the youth of Atebubu vandalized vehicles and nearly lynched their Municipal Chief Executive; just to mention these few reported cases.

This acrimonious squeeze between the ruling government and its supporters has been worsened by a grievously underperforming economy; by many measures, Ghana's economy is decrepit, and getting worse by the day.

It is unclear exactly what strategy the NPP has in 2020 to counter some of these challenges, but the omens are bad; and most NPP supporters are going to turn against their once loved flag bearer who has now become a killjoy president. This love turned sour affair reminds me of Okomfo Kwadee's track "Ahwedie Abena" where Okomfo Kwadee says he will "ti his lover t3" kikikikikiki, those laughing, what is the meaning of "m3 ti wo t3" in English?

On a more serious note; now, as in the past, it would be a mistake to underestimate what such disappointed electorate can do in an election year: and I can hear frustrated NPP supporters screaming, "Yen aa, ye nana oo por, ye b3 ti wo t3."