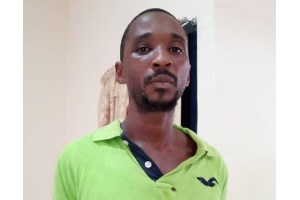 Father of Priscilla Kuranchie, one of the deceased Takoradi girls says he suspects the killer of his daughter, Samuel Udoetuk Wills promised to send her abroad.
"She had the ambition of becoming a fashion designer, but before she was captured she repeatedly told me she would be travelling abroad soon…," Mr. Alexander Kuranchie told Kasapa 102.5 Fm on Anopa Kasapa Morning Show Tuesday.

Meanwhile, he said he has no reason to doubt the outcome of the DNA test conducted by the Police insisting "Whether she is alive or not, I leave it in the hands of God.

He added:" I know if my daughter is alive nothing can be concealed."

The acting Inspector-General of Police, James Oppong Boanuh, on Monday confirmed that results of DNA tests conducted on some human parts exhumed in a house in Takoradi are that of the four missing girls.

A special police operation led to the discovery and exhumation of the bodies of the four missing Takoradi girls at Kasawrodo in the Western region, in August this year.
The bodies were retrieved from a manhole in the house of the suspect Samuel Udotek Wills.



The whereabouts of three of the missing Takoradi girls – Ruthlove Quayson, Priscilla Blessing Bentum and Priscilla Koranchie – who were kidnapped between August and December 2018 had become a mystery several months after the issue gained national prominence.

According to Police, investigations revealed that the girls were victims of a "serial kidnapping and murdering syndicate that operated in the Takoradi area."