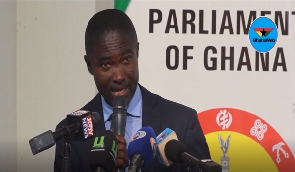 The National Peace Council is expected to meet the National Democratic Congress next week with the hope of getting the party to sign the code of conduct on vigilantism, the Executive Secretary of the National Peace Council, George Amoh has disclosed.
At the final peace dialogue meeting in Accra on Tuesday, 4th February with the various political parties, the main opposition party, the National Democratic Congress, NDC failed to sign the political parties' code of conduct on the vigilantism until certain conditions were met.

The Executive Secretary of the National Peace Council, speaking on the 3FM Sunrise Morning Show said among these demands by the NDC was that civil society groups and other stakeholders with similar interest in the political dialogue did not sign the document. They therefore demanded that those groups sign before the NDC will append their signatures.

"The NDC made it clear that they have no issue with the content, they had no issue with either the road map or the code of conduct. The issue they raised was the fact that we did this with some key partners namely, the Electoral Commission, the CDD, IDEG, the NCCE, etc why don't you also get them to sign unto the document?"
According to George Amoh, the board met, and agreed that they go ahead to get the other institutions to sign.

"We have done that. I think out of ten institutions we have nine signing, we are left with only one to sign. I think the NDC mean well and they said this to all of us. We are very hopeful that when we approach them they will sign".

The NDC was the first party that approached the Peace Council before the governing New Patriotic Party joined, and according to the Peace Council this is significant for Ghanaians to understand.