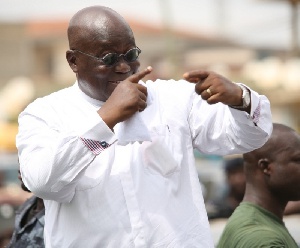 The New Patriotic Party (NPP) is leading in the December 7 polls according to a study by Konrad Adenauer Stiftung, a German organisation in collaboration with the Political Science Department of the University of Ghana, Legon.
A survey conducted in five regions in the country- Brong Ahafo, Northern, Central, Western and the Greater Accra region indicates that the NPP is leading.

Dr. Isaac Owusu Mensah, a political science lecturer at the Department of Political Science of the University of Ghana, presenting the findings, said the survey was limited to what they term as swing constituencies.

He mentioned that the said constituencies have been swinging since the inception of Ghana's democracy in 1992, adding that these constituencies largely determine winners in the Ghanaian election.

The polls which were conducted in the 24 constituencies in the swing regions concluded that the National Democratic Congress is likely to lose the 2016 general elections, adding it is only possible for the opposition party only when it's able to effectively monitor the elections till the results are declared.

In addition, the polls are likely to make a turn if the task to encourage party faithful is underestimated
He said the organization based its survey on the National Health Insurance Scheme, jobs, economy, power outages (dumsor), corruption and the DKM saga.

In the case of Brong Ahafo region, the DKM saga is a major threat to the NDC as majority of the constituents expressed displeasure in the ruling government for showing little concern for their plight.

However, conducting the survey, out of 2400 people in 24 constituencies, it is estimated that majority lauded the NDC for the massive developmental projects executed, rating it 56%.

Also, majority out of the number is abreast with issues and policies of the NPP, believing it will fulfil its promises of job creation, revival of the NHIS, fight corruption and resolve the DKM saga when given the mandate come December 7.