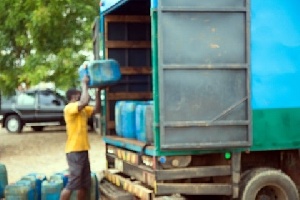 The National Petroleum Authority (NPA) and officials of the National Security have arrested five persons suspected to be part of a cartel dealing in illegal smuggling of petroleum products.
The operation took place at Kpone landing beach near Tema around 10pm and lasted for seven hours.

The ring leader Isaac Allotey, 34, with four others including the owner of one of the life boats used in the operation, were arrested by a team from national security who were on a night recce and are currently being investigated.

Two trucks of fuel containing about 300 gallons estimated to be around 9000 litres and two outboard motors were confiscated by the team.

Security officials say Allotey told them he buys each "Kufuor" gallon of fuel at the cost of GHS 80 and he sells it at GHS 100, making a profit of GHS 20.

"He said he pays GHS 10, 000 in both cash and food items to vessel officials before the products are sold to him," one of the security officials quoted the suspect.

Undercover security officials who effected the swoop announced the identification of a route to the open sea where super tankers anchor sell low quality gasoline and diesel to the cartel of 'goro men.'
The underground business involves the smuggling of inferior fuel products from the high seas into the country, which not only causes revenue loss to the government, but the product is also injurious to human health.

It would be recalled that officials of the Western Naval Command in Takoradi in the Western Region, in 2017, arrested nine persons and confiscated several vessels suspected to have involved in the use of illegal bunkering.

The arrest was on the back of a warning given by Vice President Dr. Mahamadu Bawumia who renewed government's commitment to dealing with unscrupulous persons caught to be dealing in illegal smuggling of petroleum products.

Samples of the products are expected to undergo laboratory test by NPA officials to authenticate their quality

The smuggling of petroleum products has been of great concern to the NPA, National Security and the Oil Marketing Companies (OMCs), as it negatively affects government's revenue and the profit margins of the OMCs.