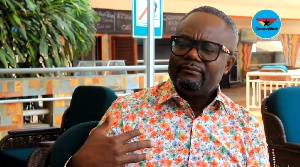 Founder and Leader of the Liberal Party of Ghana, Kofi Akpaloo says the Electoral Commission (EC) is much prepared to conduct a 'safety' voter register exercise amid the Coronavirus pandemic.
He told NEAT FM's morning show 'Ghana Montie' that the Commission is in talks with some companies to provide them with all the necessary equipment that will aid their exercise smoothly.

Mr Akpaloo was emphatic that "the new registration will come off as planned. Nothing will and can stop the EC."

"Many Ghanaian companies have bided to supply the Commission with all the PPEs and all needed for the exercise," he added.

EC outlines safety protocols for voter registration
The Electoral Commission has released a list of safety protocols to be observed during the upcoming voter registration exercise.

The elections management body said it expects all Ghanaians to adhere to the protocols during the registration exercise for the compilation of a new register.

In a statement, the EC listed the measures as follows: "Mandatory wearing of face masks at the registration centres; people's temperature will be checked before one is allowed into the registration center; running water available for handwashing; queues are to have one-meter gaps between persons lining up to register; the scanners will be sanitised; persons who complete the registration process will also be provided with hand sanitisers before they leave the centre".

The Commission said it is "sensitive to the current state of affairs due to the COVID-19 pandemic and will abide by the necessary precautions and safety protocols in the execution of its mandate when it deems it appropriate to begin the compilation of the register".