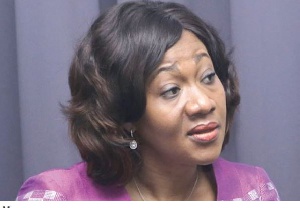 Acting Director of Public Affairs at the Electoral Commission, Mrs. Sylvia Annoh, has said all measures by the Commission are meant to benefit the electorates and not any political party.
Speaking to NEAT FM's morning show 'Ghana Montie', Tuesday, May 12, 2020, the Commission insisted that they are keen on changing the 'bad' old voters' register to ensure a smooth and fair election come December 7.

Mrs. Sylvia Annoh assured that all protective precautions will be obeyed by the Commission when a date for the registration is settled on.

We've Not Received PPEs From Gov't

The Commission also strongly denied a claim by Minority Leader Haruna Iddrisu that it had received some Personal Protective Equipment from the government to help it carry out its election management mandate even as the coronavirus pandemic festers.

Mrs. Sylvia Annoh said contrary to the claims of the Minority Leader, "it has not stated anywhere that it has received Personal Protective Equipment (PPE) from the government," stressing: "For the avoidance of doubt, the Commission has not received any protective equipment from the government."
Consultation With Ghana Medical Association

She told host, Kwesi Aboagye that "The Commission is in consultation with the Ghana Medical Association [GMA] for advice that will not put electorates into any risk."

"We will take into consideration the period in which the exercise will be conducted," she added.

Mrs. Sylvia Annoh could not tell if the Commission will annul the registration when advised to do so by the GMA.

"I don't want to go there," she said.