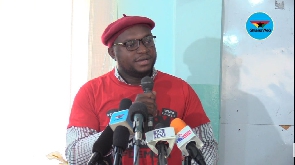 A member of the communication team of the largest opposition National Democratic Congress (NDC), Brogya Genfi has predicted that the forthcoming compilation of a new voters' register will not be successful.
According to him, the registration exercise will be disrupted.

"...the registration will start but they will abandon it on the way," the former National Democratic Congress (NDC) Youth Organizer in the Ashanti Region said.

Chaotic system

However, Brogya Genfi has reiterated his party's position; insisting that the system will be 'chaotic' and that it will impossible for the exercise to go on.

"The system will be chaotic...I am telling you that the EC will start the registration, they will abandon it and come and use the current register. What they are doing is not possible; it cannot happen," he said on Neat FM's 'Me Man Nti' programme.
"Even Afari Gyan with so many years of experience wouldn't do this; how much more Jean Mensa who has no experience...she is going to crash the system," Brogya Genfi said.

Registration scheduled for June

The Electoral Commission (EC) has set the ending of June for the commencement of the compilation of the new voters' register.

Despite agitation from the NDC, the EC and other political parties who were present at an IPAC meeting have agreed on starting the registration exercise.