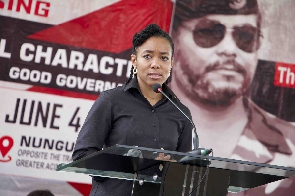 Member of Parliament for Klottey Korle, Dr Zanetor Agyeman Rawlings has said the compilation of a new voters' register some 11 months to the country's general elections is not necessary.
The EC has announced it will procure a new Biometric Voter Management System, as well as, compile a new Voters Register for the 2020 general elections.

The electoral management body in a statement said: "The current kits and solutions are obsolete: They are End-Of-Life (EOL) and can no longer be supported by their Original Equipment Manufacturers (OEM). The immediate past vendors of the solution proposed that the Commission replace all the equipment and also upgrade the Data Centre. This was rehashed by the Consultants we engaged to audit our systems"

The EC also said it will replace the existing software with a new one to enable it "own and control our systems, unlike the previous situation where the solution was owned, controlled and managed by the vendors."

The budget for a new electoral roll was approved in parliament before the house went for its Christmas break, raising eyebrows amidst fierce opposition from at least 6 political parties.

Speaking on Dwaboase on Power 97.9 FM Monday morning, Dr Rawlings said she could not fathom why the EC wanted to compile a new electoral roll when the existing one could be "audited and cleaned" to enhance the integrity of the 2020 polls.

The legislator said although she had listened to the EC commissioners "complain" about how some of their gadgets are not functioning properly and continued to call for the compilation of a new voters roll, she believed the current register can be cleaned by various ways to lower the anger among millions of Ghanaians who believe it does not make economic sense to change the existing voters register.


"Its not just about complaining when you complain bring solutions and that is what we [the NDC] are doing…We think that the same objective can be achieved. Do an auditing and clean the register," she told co-host Kwame Minkah.

Dr Rawlings continued that she had monitored the airwaves and had listened to many Ghanaians who have kicked against the compilation of a new voters register, citing that it is the same electoral roll that was used to conduct the 2016 elections that made Nana Akufo-Addo the president, a referendum that created 6 regions and a District level elections last year.

Citing a mammoth demonstration in the Northern regional capital, Tamale on Saturday, Dr rawlings urged the EC Boss, Jean Mensa to listen to the millions of Ghanaians that have registered their displeasure to the intentions to compile a new voters register.

"She [Jean Mensa] is representing what people are seeing as a problem…we need to be careful the kind of precedent we are setting ahead of the election…we have heard the people saying its peace they want so why not listen to them," she added.