Novak Djokovic's deportation and exclusion from the 2022 Australian Open: Retire to make a case for no compulsory vaccination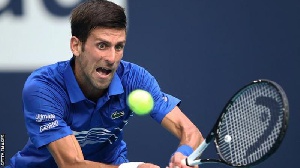 It is a fundamental blow to freedom of choice to compulsorily vaccinate people against their will but for our collective good, it was a plausible strategy to douse the deadly effect of the virus.
However, the glee with which the world leaders embraced compulsory vaccination has long lost its relevance for various reasons.

To start with, people have experienced severe complications to death after taking the jab and yet world leaders are hell-bent to foist the vaccine on people unwilling to take the jab.

Like Djokovic, I had wanted to pursue a clear case of in serious infraction in one of the headquarters of the national agencies in Accra only to be met with this 'no vaccination, no entry' demagoguery.

I vehemently insist that Djokovic was handed a raw deal in the sense that he was given his visa which is an endorsement on his passport indicating that he as the holder was allowed to enter, leave, or stay for a specified period in Australia when he had not taken the jab or assured he was going to take it upon his arrival in that country.
The refusal to allow Djokovic to do what he does best on the flimsy excuse that he had not taken the jab as though taking the jab is an end in itself is very reprehensible and ridiculous and smacks of an attempt to coerce people like him who have no plans of taking the jab.

I therefore passionately appeal to Djokovic not to seek any further redress because it is clear in subsequent competitions, other host countries are likely to replicate what Australia has done to prevent him from contesting in future competitions.

His early retirement will send a strong signal that denying people the basic rights to exhibit their talents including denying them some valuable services in the name of a vaccine that does not even prevent one from catching up the virus despite its numerous challenges is not worth it.

This is the little he can do to solidarize with those who have do not want to take the vaccine-like himself.