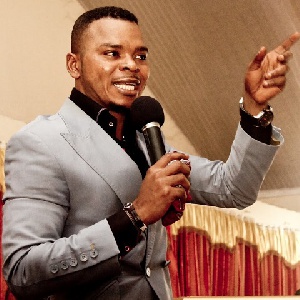 There appears to be some disagreement between the founder of International God's Way Church, Bishop Daniel Obinim, and the police over the authenticity of investigative caution statement he gave when he was invited by the police.
While the police prosecution led by DSP George Amega maintained that the pastor gave a statement and signed it, Obinim denied signing any such statement.

Although he has not denied giving the police a caution statement when he was invited to appear at the Tema Police Station, he said the statement which the prosecution is presenting to court is not his as it does not bear his signature.

Bishop Obinim, together with two of his pastors, is before an Accra Circuit Court for allegedly assaulting his adopted children – a 14-year-old girl and a 16-year-old boy – in the presence of his congregation.

The main trial has been put on hold as the court embarks on a mini trial to determine the authenticity of the statement which the accused allegedly gave to the police.

Under cross examination by DSP Amega, he told the court that although he does not remember the content of the statement he gave to the police in Twi and same recorded down by the case investigator in English, he only signed his signature to a statement which was also signed by his lawyer, the administrator of his church and Kingsley Baah, another accused in the trial.

However, the prosecutor put it to him that it is never the case that a lawyer signs on the investigative caution statement of his client.
Subsequently, DSP Amega prayed the court for an order for the signature of Bishop Obinim to be taken to the forensic lab for experts to determine whether it matches with what is on the caution statement.

His lawyer did not object to the request by the prosecution and the court presided over by Her Honour Abena Oppong Adjin-Doku ordered Obinim to give samples of his signature to be taken to experts for determination.

Meanwhile, the prosecution has indicated that they have closed their case, paving way for the accused persons to open their defenses once the mini trial is over.

DSP Amega told the court that despite the challenges, they would bring their case to a close, saying they do not want to waste the court's time.

The police have been struggling to locate the whereabouts of the two assaulted children to come and testify in court.

As a result, the prosecutor had served the witness summon on the church administrator who initially brought the victims to the police station when the incident occurred.
But Bishop Obinm's lawyer returned the criminal summons to the police.

According to him, it is not the duty of his clients to provide the prosecution the whereabouts of the victims.

He said there is no legal provision for an accused person to assist the prosecution to build their case.