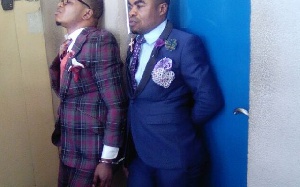 Bishop Daniel Obinim spent Tuesday night in the cells of the Criminal Investigations Department of the Ghana Police Service at the headquarters of the law enforcement agency in Accra.
The CID is investigating the controversial founder of the International God's Way Church in connection with a ritual fraud involving GHS11.6million, ASP Joseph Benefo Darkwa, PRO of the CID, has told Class News.

He was reported to the CID by a complainant, who had parted with the said amount to a fetish priest for spiritual assistance, but the witch doctor could not achieve the purpose and so he had to fall on Bishop Obinim for help.

Bishop Obinim, according to ASP Benefo Darkwa took the money (proceeds from gold sales) but was also not able to fulfil the purpose for which he was paid, thus, his arrest.

Meanwhile, Bishop Obinim and one of his associates have been charged with assault and taken to the police headquarters in Accra after honouring an invitation by the law enforcement agency.

He was reported to the Domestic Violence and Victims' Support Unit of the Ghana Police Service after a video went viral on social media showing him flogging two teen lovers in church with a belt for fornicating.
ClassFMonline.com has learnt that Bishop Obinim and his associate will answer to charges of physical and verbal assault of the teen lovers after investigations into the fraud case.

In the said video, Bishop Obinim was captured whipping the two lovers – his adopted children – for having sex with each other and attempting to abort a pregnancy. Not even the intervention of his wife could stop him from meting out the corporal punishment to the teenagers.

He was widely condemned on social media as well as by human rights activists. The Ministry of Gender, Children and Social Protection reported him to DOVVSU over the matter. A human rights lawyer, Mr Francis Xavier-Sosu, also sued Bishop Obinim over the issue.