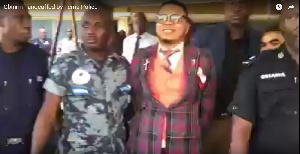 The General Overseer of the International God's Way Church, Bishop Daniel Obinim, who was accused of involvement in a fraud case of GHS11.6million has showered praises on one police officer he identified as Seth.
For him, even though some police officers were mean to him when the scandal broke, the police officer in question permitted him to ask his accuser questions, which exposed the complainant.

Bishop Obinim said he would forever be grateful to that officer as he stated: "Some of the police [officers] are wise. One [such person is] DSP Seth who asked me to question my accuser. I salute him; God bless him."

Bishop Obinim lauded the officer in question as he addressed a gathering of church members in his house on Thursday, 25 August, to state his side of the story.

According to him, he had never seen or interacted with his accuser prior to his invitation to the CID headquarters and refuted allegations of being involved in any criminal act.

He criticised some junior police officers for humiliating him. According to him, senior police officers were kind to him and accorded him respect but the junior cops rather displayed gross disrespect by handcuffing him just to disgrace and embarrass him.

"From Tema to Accra, all the senior police officers accorded me respect as a Christian brother and man of God, but the junior officers who were rather asked to escort me decided to humiliate me," he noted.
His lawyer, Samuel Atta Akyea, and other legal brains such as criminologist Ken Attafuah have condemned the handcuffing of Bishop Obinim after he voluntarily reported to the police.

They argued that he had no intentions to escape from the law enforcement officers, which made it wrong and demeaning for the police to put him in handcuffs.

Meanwhile hundreds of jubilant members of the church trooped to the house of Bishop Obinim to welcome him after he was granted bail.

Some of the congregants who were praising God and hailing his release decided to roll on the floor as others sang to signify that "the Angel has arrived".

His arrival was broadcast live on OBTV, owned by the bishop on Thursday August 25.

Bishop Obinim was granted bail after two nights in police cells. Apart from the fraud allegation against him, Bishop Obinim is also facing physical and verbal assault charges for flogging two teen lovers in church.