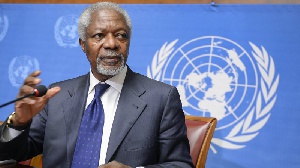 A former diplomat who worked closely with Mr. Kofi Annan at the United Nations, Patrick Hayford has revealed that the oil-for-food scandal that rocked the tenure of Mr. Annan as the UN Secretary General was a deliberate ploy to tarnish his image.
According to Mr. Hayford who was a Director of the United Nations Office of the Special Adviser on Africa, some world leaders fueled the scandal to disgrace Mr. Annan for speaking against US invasion of Iraq in 2003.

The United States and its allies, he told TV3 on Saturday, "were incensed that he had the moral courage to speak against US invasion".

"So a massive, well orchestrated, well financed effort was mounted just to discredit Mr. Kofi Annan as the Secretary General, to discredit Mr. Kofi Annan in person, to discredit the entire United Nations," the former diplomat stated.

The alleged corruption and fraud in the United Nations Oil-for-Food Programme in Iraq was investigated by Paul Volcker Commission following calls for a Security Council enquiry.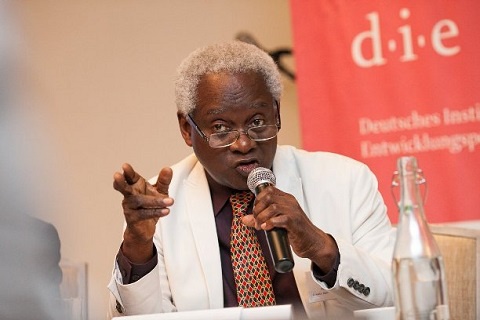 Patrick Hayford
"At the end of the day the Volcker Commission came out and it was clear that mistakes were made but again ultimately the responsibility for the Oil-for-Food Programme was that of the members of the security council, they failed in their oversight responsibility," Patrick Hayford observed.

"But in the feverish climate at the time, we have come away with this unfortunate perception that the responsibility of the so-called oil-for-food scandal rest with this honourable statesman," he added.

"Let me clarify…the ultimate responsibility for and management of the UN Oil-for-Food programme was that of UN Security Council membership, the administrative management of the Oil-for-Food programme was the responsibility of the UN secretariat headed by Mr. Kofi Annan but the real management of the Oil-for-Food programme was the responsibility of the membership of Security Council, so it's important to make that distinction."

The Oil-for-Food Programme was instituted to relieve the extended suffering of civilians as the result of the United Nations' imposition of comprehensive sanctions on Iraq following Iraq's invasion of Kuwait in August 1990. Security Council Resolution 706 of 15 August 1991 was introduced to allow the sale of Iraqi oil in exchange for food. READ MORE

Meanwhile, Mr. Patrick Hayford described Mr. Annan who died peacefully on Saturday morning in Switzerland as a "great man of peace". He was 80.