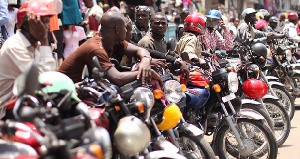 The Motor Riders Association has agreed to the ban use of motorcycles from 9pm to 6am, proposed by the Ministry of Transport as part of moves to crack down on crime.
The Deputy Minister of Transport, Nii Titus Glover, who made the proposal was of the belief that the curfew hours would be necessary particularly at a time a number of crimes were committed by criminals on motorbikes during those hours.

According to him, while motorbikes helped employed a number of young people, the devastating effect of crashes recorded in some of the country's major hospitals were a cause of concern, adding that in terms of security and safety it was a major hazard.

Speaking on Atinka TV's flagship morning show, Ghana Nie, the National Secretary for the Motor Riders Association, Majid Amadu said that the association had already established that those who used motorbikes for business will start work from 6a.m. and close latest by 7 p.m. and therefore even the curfew time was an extension of their operational time.

According to him, whoever operates after 7.p.m was selfish or had a different agenda to carry out with the motorbike.
Although the Association was aware that the 'Okada' business is illegal, Majid Amadu attributed lack of employment to the use of motor bikes for commercial purposes.

Meanwhile, he said the association were ready to obey rules and regulations and also contribute their quota if a law is passed to regulate the business.

He therefore called on the government to pass a law to regulate the okada business and allow them contribute.

"We have called on the government to pass a law to regulate and allow us operate legally but all our efforts have been fruitless. We are ready to corporate and therefore we are calling on the government to pass a law so that we can also operate legally and contribute our quota," he said.