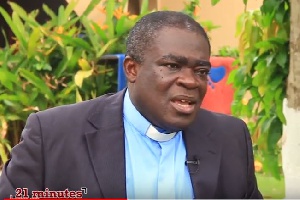 Former General Secretary of the Christian Council of Ghana, Dr Kwabena Opuni Frimpong has chastised the Director General of the Criminal Investigation Department (CID) of the Ghana Police Service over recent comments on the whereabouts of the three missing Takoradi girls.
According to him, the Ghana Police Service hierarchy owes Ghanaians an apology.

Dr Opuni Frimpong said the Police Criminal Investigation Department (CID) boss goofed and must at least apologise to the families of three missing Takoradi girls as well as all Ghanaians in general.

Speaking on Joy news, Dr. Opuni Frimpong said; "She [COP Maame Tiwaa Addo-Danquah] must know that people are hurt and it is not as simple as 'oh you didn't understand me'," when she was categorical about the location of the girls.

"That was English Language [she spoke], it is not Greek…so coming back to say 'you didn't understand me' is neither here nor there," he said.
His comment follows Maame Yaa Tiwaa Addo-Danquah's claim that she was misunderstood when she announced that the three kidnapped Takoradi girls had been located.

Dr Opuni Frimpong only wants her to offer a "serious apology to Ghanaians."

"By now, either the Inspector-General of Police or somebody has to apologise to Ghanaians. It should not be business as usual and everyone goes to sleep…People are deeply hurt," he said.