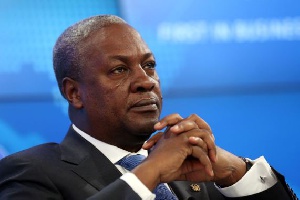 Former President of Ghana, John Dramani Mahama has eulogized Kofi Annan.
The former UN Secretary General died in Switzerland early today. It is reported that he died comfortably in his sleep.

Reacting to news of his death, former President, John Dramani Mahama said Kofi Annan fought for peace and sustainable development in challenging times.

His post on his social media platforms read "He lived and worked for global peace, security and sustainable development in very challenging times. A proud son of Ghana and Africa. RIP Kofi Annan".
Meanwhile, President Akufo-Addo has directed that flag fly half mast across the country and and in all of Ghana's diplomatic missions across the world, from Monday, 20th August, 2018, for one week.