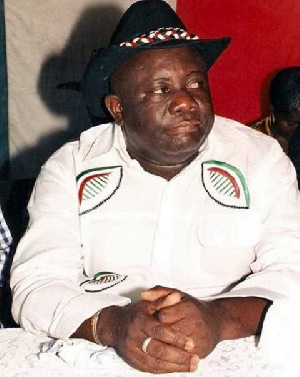 Former Municipal Chief Executive of Ejisu-Juaben and leading member of the opposition National Democratic Congress (NDC), Afrifa Yamoah Ponkoh has expressed disappointment in the Peace Council, Christian Council of Ghana and the Council of State as he accuses them of remaining silent over the new voters' registration exercise.
According to him their silence on the issue depicts hypocrisy and that is putting the lives of many Ghanaians in danger.

He made these assertions on the social and political talk show 'Epa Hoa Daben', hosted by Kwame Afrifa Mensah.

"What is happening is not good but no one is able to talk about it. A country with a Christian council, the Peace Council and even the Council of State are silent about this issue.

At this point, it is as though we are being told to go and die. The World Health Organization's directives; if it is anything to go by means we are plunging ourselves into calamity. What we don't want is what is happening".
Yamoah Ponkoh bemoaned the careless nature of the new voters' registration and the lack of compliance to health protocols during the registration.

He said, "The voters' registration is not going well because if you turn to my community, the polling stations and registration centres have been divided because the machines have not arrived but they still want to embark on the exercise. I heard it is the whole of Ghana.

"Opposition NDC raised concerns about registering for the new voters' ID during this pandemic. By God's grace, we already have an old register that has been used before. Why don't we use the old one rather than endanger the lives of the people? There is no registration centre that you will not observe people defying the social distancing protocol".

The Electoral Commission (EC) of Ghana has started the compilation of a new voter register ahead of the 2020 parliamentary and presidential election. The exercise which was expected to be seamless has, however, recorded a series of challenges around the country.