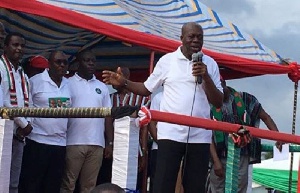 Pre-election surveys can be very dangerous to Ghana's peace, especially if they do not come true during the main elections, Vice President Kwesi Bekoe Amissah Arthur has said.
According to him, there are people who may feed on such polls and consume them as fact, a situation that could mar the peace of the country if their expectations are not met.

Speaking during the commissioning of 550-bed boys' dormitory at Enyan Abaasa in the Central Region on Friday November 25, Mr Amissah Arthur said: "We have to appeal to our intellectuals. Some of the people are publishing serious opinion polls that are showing some parties that are winning, telling their supporters that if they lose then somebody might have done something wrong.

"That is also undermining the integrity of our elections, so we are appealing to all the people who are behind all these opinion polls to be careful about the country and its stability.
"[They may] be doing this for people who may not understand it, people who feel they are going to win, and if they don't win then they become violent. That is something that we are all trying to prevent. To the students I think you have to study the manifestos, the development projects, and all the promises that are being made by the political parties. You have to analyse them and decide which one you can support and which ones are unrealistic.

"In times like this, you have false prophets who are promising several things; you will have to find out who the true prophets are and the false prophets."