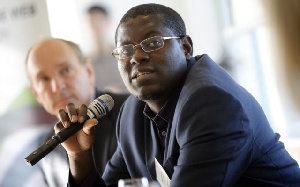 Pollster Ben Ephson will serve the research community and its members much better if he publishes his methodology and regional breakdowns with regards to his pre-election polls rather than leave his audience grappling with his headline numbers, Bright Simons, Honorary Vice President of IMANI Ghana, has said.
Mr Ephson's recent polls predicted a win for President John Mahama and the governing National Democratic Congress (NDC) by 52.4 per cent.

The polls, which have attracted heavy opposition from the New Patriotic Party (NPP), gave Nana Akufo-Addo of the NPP 45.9 per cent. All the five other candidates – Jacob Osei Yeboah, an independent candidate, Dr Papa Kwesi Nduom of the Progressive People's Party (PPP), Nana Konadu Agyeman-Rawlings (National Democratic Party), Edward Mahama (People's National Convention), and Ivor Greenstreet (Convention People's Party) – lumped together would garner a measly 1.7 per cent, according to the polls.

Mr Simons wrote on his Facebook page on Tuesday November 29: "Mr. Ephson has thrown a spanner into the works. Whilst there has long been concern over his reluctance to release the methodological framework behind his polls, and the recurrent deviation of his numbers from actual results, he does have a track record of picking winners in the presidential elections in Ghana. The problem obviously is that he is so far off the trend predicted by every other poll (and yes, I have reviewed every single one by every credible organisation since October) that one has to wonder."

He added: "At this stage, if one assigns the appropriate weight to the Ephson poll based on his historical track record, and proceeds therefrom to compute a crude 'meta analysis' of all credible polls conducted to date in connection with the 2016 general elections, the NPP's chance of winning drops from about 75% to about 55% (the reason being that there are several 'first time poll conductors' in the current season). How I wish Synovate would release a poll. Of course, this is purely the outcome of one prediction approach. There are those who have used qualitative mechanisms to come to entirely different predictions. I am confidentially and reliably informed that foreign diplomatic missions are leaning towards the view that the NDC would be retained.
"My bias is naturally towards the quantitative, and I am intrigued by the alignment of so many polls, I do, however, acknowledge the limitations. From a purely textbook perspective, seeing different polls conducted by very different entities generating such similar insights can be exhilarating.

"For example, multiple polls suggest that the NPP is on course for its strongest showing in the three northern regions to date, but that its performance in Asante shall be relatively less impressive. There is a similar convergence on the prospect of a less than impressive showing in Central Region, but a strong uptick in Eastern and Brong Ahafo. The NDC is expected to maintain its hold on Volta with virtually no serious drop in performance, and may actually consolidate in Western. Greater Accra is the scene for the most remarkable showdown of all. The race is apparently a dead-heat, though the NPP is tipped by multiple polls to edge out a clean finish.

"There are some nuances in survey design that may trip some results. In one interesting poll, a flagship series has as the key actual question being responded to being which party the respondent 'believes will win' as opposed to who they 'will vote for'. It is far from obvious how much emphasis ought to be placed on design in coming up with a composite margin of error/confidence interval for these survey results when computing a 'meta outcome'.

"It is for all these reasons and many others that Mr Ephson would serve the research community and its members, even those operating primarily within political parties, much better if he publishes his methodology and regional breakdowns in the popular press rather than leave his audience grappling with his headline numbers."