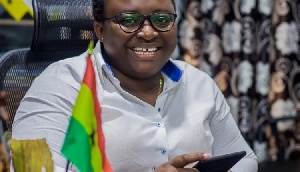 My last visit to the Osu Castle was somewhere in Februray 2019- on a conference for some Professors, the package included visiting the various sites that captured bits of Kwame Nkrumah's history. I am no professor, I was just made to tag along . We made a stop at the Osu Castle. In fact, when we got there, we were not allowed to enter, I'm sure the reason was nothing connected to security. These old learned people were tired so the tour guide had to end his long talk for us to go back.
So to even say I knew the place was a security zone would make me a liar. I do not know why we have, as a people, decided to glorify such an edifice; a place which has a sour history of trading slaves. Why we found it worthy to host our presidency until 2013 amazes me.

Fast forward…

Our troubles go beyond us.

After waiting with bated breath so not to miss any tangibles in the Manasseh/Joy News exposé, I must admit I am beyond disappointed. Let me not, entirely, discredit it, however. I will not claim to know why this supposed militia group use the Castle as their assembly point. But if what we watched was anything to go by, then Manasseh should not have gone undercover.

Clearly, these are known people on our streets, with so much information about them. These people are not a jihadist group that hide behind technology to perpetrate acts of terror against humanity. The danger here, rather, should be the fear that, a group of unemployed people with little to hold on to, may, at any provocative moment, resort to some violence to make their voices heard. I think we are being unnecessarily sensational, all in an attempt to paint a picture of doom and gloom.

Before National Service became what it is today, the scheme was holding military drills for service personnel. Did that mean they were a militia group?
I must admit, I may have done worse or said some nasty stuff to make sure to dent the credibility of the. But to what end, really?

This, I believe, is the point where we must, as a patriotic people, come together to safeguard the peace we have had, as a country, in the middle of a turbulent sub-region.

A couple of pointers found in the sensational documentary ought to be interrogated just so we do not confuse the meaning of radical activism with vigilantism, and thereby extending it to mean militia- as the revered Professor, Henrietta Mensa-Bonsu of the Ayawaso West Wuogon Commission of Inquiry tags it.

To be fair, the lay definitions of these words, as exclusive to the African environment, are historically defamed. Vigilantism can be best explained as the radicalization of political activism. Why would I want to label this group as such?

There can never be any vibrant political party surviving without such movements. The history of Kwame Nkrumah's Conventions People's Party exemplifies this. Another example is the 'Cadres' which was established by the PNDC now NDC. More often than not, the works of these extra radical loyalists are carried on by their various youth wing groups. And so, you will hardly know who the masterminds are. To be honest, these activities as bad as they make look do not come anywhere close to vigilantism. Vigilantism begins in communities lawfully and while at that, young men expecting to be fulfilled egoistically, join or form bigger militia groups with one interest.