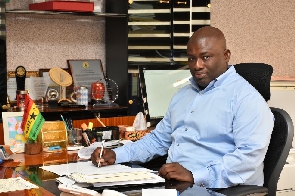 On June 25, 2021 Starrfm.com.gh published an article under the title "Former TOR Boss Asante Berko found guilty by US SEC over $4.5m bribe". In the aforementioned publication, Starr FM stated the following:
"The former Boss of the Tema Oil Refinery, Asante Berko has been found guilty by the Security and Exchange Commission in the USA for arranging millions of dollars in bribes to be paid to government officials in Ghana to help a client win a power plant contract." "The penalty represents what regulators say are the net profits he gained as a result of the alleged bribery scheme, plus interest."

The publication was not familiar with some United States legal concepts and also contained some factual inaccuracies.

The suit by the US Securities and Exchange Commission (US SEC) against Mr. Asante Berko was a civil suit. A civil suit generally seeks to establish civil liability of the defendant and not a finding of guilt. Findings of guilt are established in criminal trials.

Mr. Asante Berko was indeed sued by the US SEC for disgorgement as well as civil penalties. A claim for disgorgement is a process under the United States legal system that seeks to recover fiscal gains unethically made by a person.

The title of the story and its contents seek to suggest that Mr. Asante Berko was the subject of a criminal trial on a charge of having paid $4.5m in bribes and was indeed found guilty and convicted of same.
Although the article correctly states that Mr. Asante Berko and the US SEC reached an agreement for the settlement of the suit with a key term of the settlement being that Mr. Asante Berko admitted no liability to the allegations made against him, the article incorrectly stated that the payment made by Mr. Asante Berko to the US SEC was a "penalty".

It must be stated that the US SEC sued Mr. Asante Berko for Two Million United States Dollars (US$2,000,000) as well as interest on the said amount and for a civil penalty. It must also be stated emphatically and in no uncertainty that the US SEC under the settlement agreement, abandoned their original claims against Mr. Asante Berko including that for the payment of a civil penalty.

The payment of Two Hundred and Seventy-Five Thousand United States Dollars (US$275,000.00) made by Mr. Asante Berko to the US SEC simply constitutes a payment by virtue of the settlement reached with the US SEC for its claim of disgorgement on the basis that, there was no establishment of liability against Mr. Asante Berko nor indeed an admission of liability by him.

It is therefore woefully inaccurate and misleading for the payment to be described in the article as constituting a penalty as no trial to determine guilt or liability of Mr. Asante Berko ever took place for a penalty to be imposed. Readers are respectfully advised to take note accordingly.