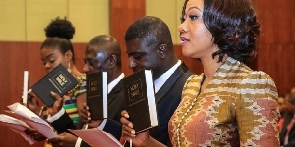 Member of the National Communications team of the National Democratic Congress, Brogya Gyamfi has called on the Interparty Advisory Committee (IPAC) to join forces to push for the removal of the heads of the Electoral Commission (EC) of Ghana.
According to him, peace and sanity can only prevail in the electoral process of Ghana only if EC Chair, Jean Mensah, and her deputies are removed from office.

"We should remove Jean Mensa and the current EC team from the office, and set up an interim committee with members of all the political parties in the country. This is the only way for peace and to ensure effectiveness in the electoral process." He told Happy FM.

In his opinion, the sitting heads of the EC have been ineffective and have to be sacked as is a norm in this country for public office holders to be relieved of their duties when they cannot execute their roles effectively.

Citing the lapses in the work of the EC over the years, the politician noted that the law requires the EC to carry out a by-election after 90 days of the death of a sitting member of parliament (MP). "The Ayawaso West Wuogon by-election came off after the 90 days as stipulated by the constitution."
Furthering his agenda, he added that "How can they invite people to a meeting which starts at 10 am but their letter states 10 pm. Notwithstanding, even the agendas of meetings are not the same as agendas stated in their letters."

To him, this is not a hallmark of good leadership and with such clumsy people at the centre of affairs at the electoral commission, "how can they be trusted to compile something as important as a new voters register."

"We should fire these batch of incompetent commissioners and get an interim committee to oversee the affairs of the EC hence, the 2020 general elections. They are trying to cause problems for us and the only way to stop that is to replace them" he reiterated.