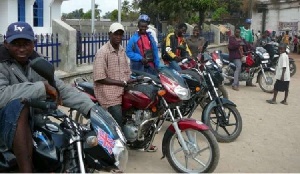 A commercial motorcycle operator (Okada), Mr Wisdom Nyadedzor, has said not all Okada riders are engaged in criminal activities, adding that some Ghanaian youth are making good use of the business to survive.
He has, therefore, called on the authorities to make the business legal.

The Okada rider was speaking in an interview with Benjamin Akakpo on the Executive Breakfast Show (EBS) on Class 91.3FM on Thursday, January 9, 2020.

The Ghana Medical Association (GMA) recently called for the banning of the Okada business.

Road Traffic Regulations 2012 (L.I 2180) prohibit the usage of tricycles and motorbikes for commercial purposes.
Mr Nyadedzor, who plies his trade in Kasoa and has been in the Okada business for the past seven years, revealed that the existing economic system in the country and his desire to acquire an education served as motivation for venturing into the business.

He said being an Okada operator enables him to work and school at the same time, as not all jobs in Ghana allow individuals that flexibility.

He also noted that some towns and villages which are inaccessible to vehicles, rely on Okada as a means of transportation.

He said: "It is an opportunity for some of us, so, when they want to actually terminate this, what about us? They should consider others. I know when you're riding a motorbike, I'm the body, it is not like a car, it is not a vehicle that when you fall [you're protected]; you're the body for the bike, so, you have to take care and know how to ride it, that is all, and you'll not have problems. Most of the youth are making good use of it, those who are sensible and want to make a better living."