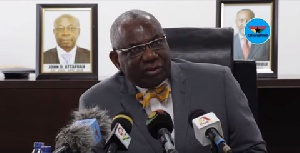 The minority caucus in parliament says it will trigger processes to haul Energy Minister, Boakye Agyarko before the House should he fail to cause investigations into the alleged plot by some politicians to blow up Oil facilities in Ghana's oil and gas enclave.
According to Mr Agyarko, some disgruntled politicians have been engaging youths of the Western Region to cause disaffection for the operators of the oil fields, similar to what happens in Nigeria's Delta State.

The minister made the comment in Houston, Texas, USA, at a meeting with some oil companies on the sidelines of the Offshore Technology Conference (OTC). He said the disgruntled politicians had polluted the minds of the youths to the point of inciting them to blow up the oil facilities within the oil enclave.

But a statement signed by a former deputy Minister for Power and MP for Yapei Kusawgu, John Jinapor said the Minister's allegation could largely scare away investors, as well as impact negatively on the oil and gas sector.
"If Mr. Agyarko's allegations remain unsubstantiated, it'll go down in history as the most reckless, unpatriotic, self-destructive and treacherous statement ever made by a Cabinet minister against Ghana's economic progress and national interest.

"The minority hereby serves notice that should the minister and national security apparatus fail to discharge their moral and legal obligations, in this matter, we'll trigger processes in parliament to compel the minister to assist the House protect our oil and gas resources as expected of a responsible minority and any parliament worth it salt."