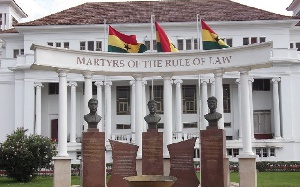 A seven-member Supreme Court panel has dismissed an application for an interlocutory injunction aimed at stopping the Electoral Commission from carrying out its intended limited registration exercise.
The application filed by one Mr, Umar Ayuba, contended that the number of registration centers, earmarked for the exercise, is too small and could disenfranchise a lot of potential voters.

While moving the application, lawyer for the applicant, Dr. Dominic Ayine argued that an expected 1.7 million people have turned 18 years since 2016 and ought to be registered under the exercise.

He added that less than 25% of the over 6,600 electoral areas and the district offices of the EC which have been earmarked will cripple many qualified Ghanaians ahead of the 2020 election.

To buttress his point, counsel drew the court's attention to the fact that a similar approach adopted in 2018, only saw 300,000 persons registered, this he said make the processes worrying.

He argued that the convenience of the EC should be considered but the inconvenience to the Ghanaian voters should be prioritized.
Opposing the application, Mr. Godfred Yeboah Dame, deputy Attorney General described the application as incompetent.

According to him, the application was procedurally challenged since there was no specific relief being sought by the applicant.

He told the court that the instant application did not invoke the original jurisdiction of the apex court and that it was not premised on specific article.

He argued that the EC has the exclusive right as per the constitution to conduct the exercise in the manner it desires.

Lawyer for the EC, Justin Amenuvor, on his part told the court that he relied on all the documents filed except to add that, the applicant has no reasonable cause of action to apply for an injunction.
The panel chaired Justice by Julius Ansah with support from Justice Jones Dotse, Justice Sulle Gbadegbe, Justice Samuel Marfo-Sau, Justice Agnes Dordzie, Justice Nene Amegacher and Justice Professor Nii Ashie Kottey dismissed the application.

Reasons for the dismissal the court said would be explained in the substantive matter.