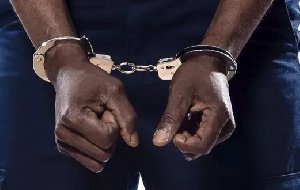 A third Nigerian suspect in the kidnap of the Takoradi girls who have now been confirmed dead, Chika John Idum has been extradited to Ghana to face prosecution.
He was arrested in Nigeria in August in a joint operation between Ghana Police Service and its counterpart in Nigeria.

Chika John Idum was brought to Ghana on Wednesday night after the extradition processes were completed.

He joins his other compatriots, Samuel Udotek Wills and John Oji who are already facing prosecution in Ghana.

Kasapafmonline.com sources within the Police Service say Chika will likely be arraigned before court on Friday or Monday after charges have been pressed against him.
The whereabouts of the three missing Takoradi girls – Ruthlove Quayson, Priscilla Blessing Bentum and Priscilla Koranchie – who were kidnapped between August and December 2018 had become a mystery several months after the issue gained national prominence.

A special police operation led to the discovery and exhumation of the bodies of the three missing Takoradi girls at Kasawrodo in the Western region in August this year.

The bodies were retrieved from a manhole in the house of the main suspect, Samuel Willis.

DNA tests were ran on the remains and the results were confirmed by the Police on Monday to be that of the ladies...