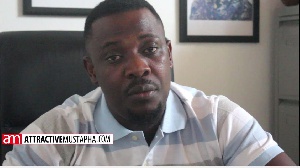 The founder and leader of True Word Fire Prophetic Ministries, Prophet Nigel Gaisie has made a revelation about the three kidnapped girls.
According to the man of God, it has been revealed to him by God that the three girls are alive and not dead as reported by the police.

Prophet Nigel Gaisie indicated that all the information given by the police on the location of the girls is just a diversionary tactic.

He also advised the families of the girls to keep praying to God for the safe return of their children since they are all alive.
"The three Takoradi kidnapped are still alive. The reports by the police claiming the girls are dead is just a diversionary tactic. I speak as an anointed man of God and I want to tell the families of these girls to keep praying for their return", Prophet Nigel Gaisie disclosed.

Prophet Nigel Gaisie is popularly known for his death prophecy about the late dancehall artiste, Ebony Reigns. He also made a revelation about kidnapping cases in Ghana.

The three girls were kidnapped in 2018 and since then nothing has been found about their location. Recently, the police disclosed that they found some remains in a septic tank believed to be that of the girls.