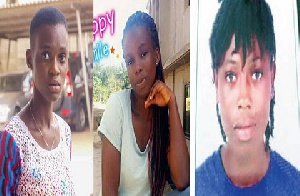 Families of the kidnapped Takoradi girls have intensified pressure on the Ghana Police Service to rescue them, following claims by the CID that it knows their whereabouts.
The family have expressed outrage over failure by the Police to rescue the girls two weeks after the CID revealed that it knows where they are.

According to the families, the lack of information after the CID's earlier announcement has heighted their fears.

Some members of the families expressed their frustration on the Morning Starr Wednesday.

"Three days after the press conference we contacted Madam Tiwa (Director-General of the CID, DCOP Maame Yaa Tiwaa Addo-Danquah). She told us that the BNI are seriously working on it and if anything new comes up she will let us know. Since then we have anything from her again," a member of one of the families said.

Another stated: "The CID boss keeps telling us that the BNI is on the case. She says she will contact me when she gets new information. But I haven't heard from her for some time now. I don't have any hope in them. I get anxious anytime I see a car because I feel my daughter is coming home. The announcement by the CID has heightened my fear. I can't even sleep."

Meanwhile, a Child Rights Activist, Bright Appiah has urged the aggrieved families to petition parliament over the matter.
"All that we want is for the children to return to their families and up to date we have not heard anything and we are in the ninth month of what happened to these children. So, if we know their whereabouts, I think that they have to be accountable for these children and then to give us confidence that probably tomorrow or the next day they will return these children to the family," he stated.

He continued that "Parliament must also have interest in this because matters of children is a state affair therefore, if there are institutions that are mandated to do their work and for that matter their involvement in revealing certain information and they feel that in terms of national security they cannot disclose it to the public, there will be the need for parliament to also be on them to ensure that they give the right information."

On his part, Security Analyst Colonel Rtd, Festus Aboagye said the information given to the public by the CID was not precise.

"It wasn't too precise because investigation is a science but it is also not rocket science. There's a bit of luck that's always attached," he said.

According to him, the CID faulted for publicly disclosing that it knew the whereabouts of the girls.