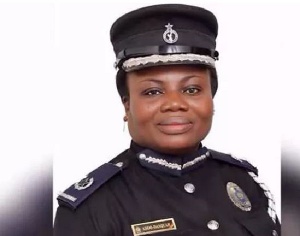 The immediate past boss of the Criminal Investigation Department of police, COP Bright Oduro (retd) has suggested that it would be unfair to sack the Director General of the Criminal Investigation Department for publicly sharing false information on three girls kidnapped in Takoradi.
He argued that claims by COP Maame Yaa Tiwaa Addo-Danquah that the police knew the whereabouts of the then missing girls, were based on what her trusted investigators told her.

Later, following DNA tests that the girls have rather been killed by the kidnappers, there have been several calls on her to resign as the CID boss or be sacked.

But COP Bright Oduro does not share in the call for her dismissal. He was emphatic on it in his interview with Nuang Faalong on TV3's Hot Issues Saturday afternoon where a wide range of issues on policing were discussed.

COP Tiwaa Addo-Danquah "was misled into believing the girls were alive," Mr. Oduro asserted.

"There were people working for her", the former CID boss reminded the public, "they probably told her the girls were in Nigeria, and believing her investigators" she went public with the information.
For him, it would not be a bad idea if she is reassigned to head any of the about 15 units within the Ghana Police Service, if the public or the police administration think "her work as CID boss is not satisfactory", but "not to be sacked".

The current Director General of CID was asked to act as the substantive boss when COP Bright Oduro was asked to proceed on leave in October 2017 ahead of his retirement in January 2018.

Having worked with Madam Tiwaa as his deputy, he never doubted her professionalism.

Meanwhile, some family members have doubted the DNA results confirming bones discovered in August in Takoradi were those of the girls declared missing about a year ago.

According to Mr. Oduro, finality would have been brought to the issue if the families were made to identify physical items such as cloth, beads, and ear rings found on the bones when they were discovered, before the DNA tests.
Promotion

Tiwaa Addo Danquah was appointed the CID boss with the rank of an Assistant Commissioner of Police, and Mr. Oduro had a slight disagreement with that because that position is reserved for Deputy Commissioners and above. She can't be working with subordinates with higher ranks than her, he clarified.

Interestingly, within months, she was promoted to the rank of a Deputy Commissioner of Police and less than a year and half years she was made a Commissioner of Police.

"She has been lucky to have been promoted twice within the spate of one year and four months," he said, pointing out that promotion from the rank of Assistant Commissioner is more of a political decision than administrative.

The only person who had promotion close to her, as Mr. Oduro could remember, was a Chief Superintendent who was promoted to the rank of Deputy Commissioner after playing a key role in the arrest of a serial killer – Kwabena Ebo Quansah – who murdered over 30 women in Accra and Kumasi in the late 90s.
Corruption

COP Bright Oduro strongly contested public opinion that the police is the most corrupt institution in Ghana.

"There are more corrupt institutions than the police," which rot are not made public, he said, stressing that people are merely holding on to perception to crucify the police service.

In any case, majority of the police officers who are on record to have corrupted themselves were victims of temptation as people try to buy their way out of certain offences, he argued.