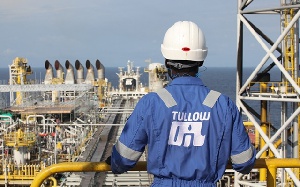 Sat, 1 Dec 2018 Source: Reuters
Africa-focused Tullow Oil will return to paying dividends, which it suspended in 2015 due to the oil price crash, and expects to pay out at least $100 million from 2019 with an option for a special dividend for this year, it said.
Tullow forecast its net debt would drop to $2.8 billion by the end of the year and slightly raised its full-year free cash flow to $700 million earlier this month, helped by trimming its capital expenditure.

Tullow has around 1.39 billion outstanding shares, according to Refinitiv Eikon data, implying a dividend of at least around $0.07 per share.

"Having reached our target of being a balanced self-funding exploration and production business and having embedded cost discipline across the group, this is the right time to reinstate a dividend and focus on our plans for growth," Chief Executive Paul McDade said in a statement on Thursday.

The dividend will be paid on a semi-annual basis based on the free cash flow Tullow makes while keeping debt and investment in mind, it said, adding the board will look at other types of returns to shareholders if cash abounds.

"With respect to the 2018 financial year, the board will review the potential for a one-off ordinary dividend after the year-end financial close," Tullow said.

Tullow, with a market cap of around 2.5 billion pounds ($3.2 billion), had raised the possibility of returning to paying dividends in April.
Tullow plans to spend $570 million next year, at the upper end of its $200-$600 million capital expenditure range.

At a capital markets day, McDade told reporters plans for final investment decisions on its East African ventures in Uganda in the first half and Kenya at the end of next year still held.

He said the company was driving to complete a farm-down - or the sale of a share in its rights over a discovery - in Uganda to Total by the end of this year, but declined to put a probability on that timeframe.

As for the pipeline project in Kenya that would carry oil from onshore fields to the port of Lamu, he said if all commercial and ownership questions were settled by the third quarter of 2019, a final investment decision would still be possible by the end of that year.

In addition to its fields in Ghana, where it will reach gross plateau production of 180,000 barrels per day over the coming weeks, the East African ventures are due to boost Tullow's output by around 50 percent to 150,000 bpd from the early 2020s.

Tullow also plans to drill three wells offshore Guyana next year in one of the world's most-watched basins.
Source: Reuters