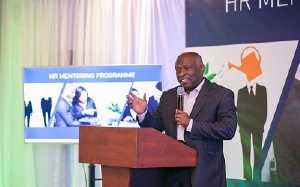 Tullow Ghana says it has commenced the deployment of equipment to resume drilling of wells at the Tweneboa-Enyenra-Ntomme (TEN) offshore oil fields.
Late last year, Tullow and its Joint Ventures Partners secured the Maersk Venturer rig which will be used across the TEN and Jubilee fields.

It has been contracted for up to four years with favourable early termination provisions.

The first well planned is a Ntomme production well in the TEN fields followed by a Jubilee production well located in the north-eastern area of the field.

The oil giant confirmed to Business Finder that it has received approval from government to resume full drilling operations by the end of this month.

Managing Director (MD) of Tullow Ghana, Charles Darku told this paper that an oil rig secured for that purpose had arrived in Ghana and "is heading to site to start drilling."

Tullow has excelled in the last 5years

"It's been one of teamwork, I'm quite hugely proud at what we've achieved over the past five years, working with the team at Tullow Ghana and with key government agencies to nurture the oil and gas industry.
What we have done shows for itself, gas supply into the economy, getting production up, getting TEN completed, getting the greater Jubilee plan approved are all big ticket items on their own which have helped the industry grow to the point where it is today," he added.

Maritime boundary dispute

A maritime boundary dispute between Ghana and Ivory Coast stalled work on the TEN fields for almost three years.

However, the Special Chamber of the International Tribunal of the Law of the Sea (ITLOS) on September 23, 2017 ruled in favour of Ghana in the three-year-long maritime dispute between Ghana and Côte d'Ivoire.

The Chamber in a unanimous decision ruled that there had not been any violation on the part of Ghana on Côte d'Ivoire's maritime boundary.

New Maritime boundary dispute determined

Ghana breathed a huge sigh of relief when new geographic coordinates set out by ITLOS in its ruling were plotted to set the single maritime boundary between Ghana and Côte d'Ivoire and Ghana did not lose any portion of the TEN oil fields to Côte d'Ivoire.
The new geographic coordinates were plotted because the Court discovered that the geographic coordinates used by both Ghana and Côte d'Ivoire were inaccurate.

The Tribunal decided not to use either of the base points advanced by the two parties as the starting point on land for drawing the line into the sea.

It, therefore, settled on what it called BP (boundary pillar) 55+ as the starting point for doing the delimitation just as Ghana had put forward.

TEN oil production to average 56,000 bopd

Gross production from the TEN fields exceeded initial guidance in 2017, averaging 56,000 bopd (net: 26,400 bopd).

This strong performance was as a result of production and water injection optimisation which continues to be effective and the field performed consistently above 70,000 bopd during November and December 2017.

24 wells for full field development
The full field development of TEN consists of around 24 wells, comprising a mixture of water injection, gas injection and production wells.

The break down are; 11 oil producer wells, 10 water injection wells, 2 gas injector wells and one gas producer well.

11 wells drilled so far

However, prior to the ITLOS injunction on new wells, 11 wells had been drilled so far comprising five water wells, five oil wells and one gas injection well.

13 wells to be drilled after ruling

Now that the court case has been settled Tullow and its Joint Venture partners will have to drill the remaining 13 wells.

They comprise six oil producer wells, five water injection wells, one gas injection well and one gas producer well.
Tullow 2018 forecasts

Tullow expects 2018 gross production from the Jubilee field to average 75,800 bopd (net: 26,900 bopd), which takes into account the planned shut-downs associated with the turret remediation work.

Tullow's Corporate Business Interruption insurance cover, which compensates Tullow for lost production associated with the remediation works, is expected to reimburse Tullow 10,200 bopd of net production-equivalent insurance payments. Jubilee effective net production is therefore expected to average around 37,100 bopd for 2018.

TEN shareholders

The shareholders in the TEN project are Tullow – 47.185%, Ghana National Petroleum Corporation (GNPC) – 15%, Kosmos Energy – 17%, Anadarko Petroleum Corporation – 17%, and PetroSA - 3.815%.

TEN is expected to produce about 300 million barrels of oil, equivalent to 20 years lifespan of the project, and 80% of the oil would be gas.