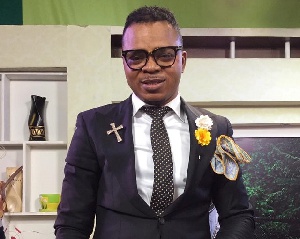 A lot has been said about Bishop Obinim in the past few days. The latest about him is an alleged Gh 11. 6m fraud leveled against him by an unknown complainant.
It looks like Bishop Obinim saw this accusation coming. The man of God before he was handcuffed over the case prophesied during a live TV session that a group of people are planning to disgrace him.

He said the unknown persons earlier tried several ways to tarnish his image but all proved futile.

"You have planned to accuse me of taking gold from you to bless it but I've not returned it. You have also planned to make a police case against me concerning this issue.
What has Obinim done to you?" he predicted before his arrest on Tuesday, August 23.

The founder and leader of the International God's Way Church Bishop was being held for assaulting two church members before his congregants as well as facing defrauding by pretense charges in a Gh¢11.6 million case.