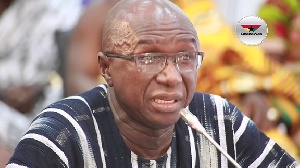 The Minister for the Interior, Mr Ambrose Dery, has said the security apparatus is doing all it can to track the three girls kidnapped in Takoradi, Western Region, between August and December last year.
They are 18-year-old Priscilla Mantebea Koranchie, last seen on 21 December 2018; 21-year-old Priscilla Blessing Bentum, last seen on 17 August 2018; and 18-year-old Ruth Love Quayson, last seen on 4 December 2018.

Mr Dery told journalists on Wednesday, 20 March 2019, on the sidelines of the annual review of his ministry's 2018 activities, that the country's laws on privacy is hindering progress in finding the girls.

"The police are on top of the matter", he said, adding: "It will come to a time that, as a country, we take some decisions as to what we want – our privacy. We should be able to use technology to track where a person is calling from, but are we prepared to give up our privacy?"

"Then we can listen in to some of the conversations that will help us arrest the culprits.
"As a nation, while we are working hard at this, we are bringing in whatever support we can get from outside because we are talking about our girls.

"They are the future. Yes, it is very painful exercise for us. We are very hopeful that none of them have been killed," he said.

The families of the girls have threatened to sue the Ghana Police Service over the delay in finding the victims and also picket the Jubilee House.

The man suspected to be behind the kidnappings, Samuel Udoetuk-Wills, a Nigerian, broke cell and escaped from the custody of the Takoradi Metropolitan Police Command on 30 December 2018, but was re-arrested by the police.