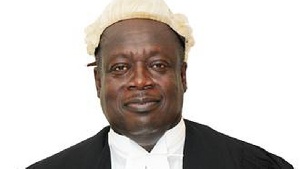 The Ghana Bar Association has added its voice to calls for the security agencies to double down rescue efforts for the three kidnapped Takoradi girls.
Ruth Quayson, Priscilla Blessing Bentum and Priscilla Koranchie were kidnapped between August 2018 and January 2019.

The ringleader of the kidnapping gang in the case, Sam Udoetuk Wills, is currently being tried in court after he escaped jail in December 2018 when he was initially arrested and detained at Police Cells.

Families of the young ladies and sympathizers have staged protests to exert more pressure for their rescue. Again, the families have petitioned the President and the Western Regional Minister for the rescue of the young girls.

The President of GBA Anthony Forson Jnr. in a speech read on his behalf by Nana Gyankomah Djaba-Mensah, a State Attorney at the commemoration of the 37th Martyrs Day held at Koforidua High Court on Friday, reminded the security agencies anxiousness of Ghanaians in seeing the girls rescued back.

"While we commend the security agencies for apprehending the suspected kidnappers of the two Canadian women, the country waits with bated breath to hear similar good news relating to the three residents of Tarkoradi".
The GBA President expressed worry over seeming insecurity in the country.

"Ghana in recent years has equally witnessed some activities which have threatened and questioned the general safety of the country. Crimes such as armed robbery and kidnapping have been rampant in the past years. These activities lay bare the few lapses in our security as a country….the frequent cases of armed robbery pose major security threats".

The GBA President urged government to provide more logistics to the security agencies to be efficient in combating emerging crimes in the country.

"We commend government for increasing logistics support for the Ghana Police Service, and we pray we may have very efficient Police Service and a bold Judiciary to deal diversely and swiftly with crime. Perhaps it is time to drastically change our attitude towards security a whole."

"It is obviously time to reassess the proverbial Ghanaian hospitality and be extremely vigilant and be each others keeper. This is the time to build a national consensus on security issues and for more logistics to be made available to the law enforcement agencies to ensure that the citizens feel safe".
Three high court judges -Mr. Justice Fred Poku Sarkodee, Mrs. Justice Cecilia Koranteng-Addo, Mr. Justice Kwadwo Agyei Agyepong and Major Acquah a retired Army officer were abducted and murdered during the curfew hours of June 30, 1982. This callous incident shook the nation hence commemorated every year to ostensibly avert its reoccurrence.

The Eastern Regional Vice President of GBA, Francis Amandzieba Polley told Starr News, Judges in the country must be provided adequate security both at home and the court.