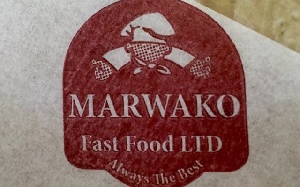 Expatriate-owned eatery, Marwako Fast Food Limited, has said it is ready and willing to fully cooperate with Ghanaian authorities to probe the alleged assault by one of its Lebanese supervisors, of a Ghanaian kitchen staffer at its Abelenkpe branch in Accra.
The victim, Evelyn Boakye, alleged that Mr Jihad Chaaban, her supervisor, forcefully dipped her face in a paste of freshly blended pepper. She also said Mr Chaaban locked her up for several hours after the incident.

Ms Boakye reported the case to the police who arrested Mr Chaaban, interrogated him and later granted him bail. He was subsequently charged with assault on Tuesday, 7 March.

The incident has been widely condemned by Ghanaians on social media, leading to a call for a total boycott of Marwako.

On Tuesday, Minister of Gender, Children and Social Protection Ms Otiko Afisa Djaba, Labour and Employment Relations Minister Ignatius Baffour-Awuah and MP for the area, Kyeremateng Agyarko met with the management of Marwako over the matter. The Labour Minister ordered an intensive audit of Marwako's labour practices.

"I've tasked the Labour Department to do an investigation and give me a report within one week's time. So when we have the report, we will study it and then know which action to take. We are sending a signal to all employers that business will never be as usual as perhaps it may have happen over the period," Mr Barffour-Awuah stated.

"What we are saying is that if somebody comes to you for employment and you decide to accept to work with that person the relationship then becomes employer-employee, it is not master-servant. The employer has his rights in the same way as the employee also has his right," he said.
For his part, Mr Agyarko said the visit shows government's commitment of taking care of Ghanaians.

"The good people of Ghana voted for this party to take care of them and this is part of our taking care of the good people of this country. It's imperative…this is a matter that has happened to a Ghanaian, and it is important that government that has the power, that has been elected to take care of the people must be seen to be interested in the matter. This is exactly why we are here," he added.

Amidst all this, Marwako said in its latest statement issued on Tuesday and signed by CEO Alhaji Marwan Mohammed that management appreciate the visit by the state officials promising that: "We wish, especially, to assure the Honourable Gender Minister as well as the Employment Minister that we will continue to give our fullest cooperation to the police and officers of the labour ministry tasked to also investigate the unfortunate incident at our Abelenkpe branch on the night of the 26th of February 2017."

The statement said both Ms Boakye and Mr Chaaban continue to be workers of the restaurant, "except that Jihad is on suspension and in police custody pending his appearance in court, while Evelyn was granted leave to allow her sufficient time for proper care while assisting police and all other processes in dealing with this matter."

"Despite the fact that she [Evelyn], understandably, will not answer phone calls, allow delivery of letters to her, or a chance for us to extend the needed support, we assure once again that we are willing and ready to assist in anyway.

"We wish to assure our cherished customers and all that we are taking extra steps to ensure incidences such as happened are completely avoided among staff as well as management."