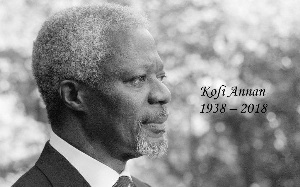 Tributes keep pouring in thick and fast from leaders across the globe after the death of former UN General Secretary Kofi Annan took the world by storm.
The former UN Chief died peacefully on Saturday 18th August 2018, the family said.

Kofi Annan served as the seventh Secretary-General of the United Nations from January 1997 to December 2006. He was the first to emerge from the ranks of United Nations (UN) staff to serve as the Secretary-General.

We captured below how some world leaders and institutions saw him.


Sad to hear of the death of Kofi Annan. A great leader and reformer of the UN, he made a huge contribution to making the world he has left a better place than the one he was born into. My thoughts and condolences are with his family. pic.twitter.com/P0SWagShJM

— Theresa May (@theresa_may) August 18, 2018
TB: I'm shocked and distressed to hear the news about Kofi. He was a good friend whom I saw only weeks ago. Kofi Annan was a great diplomat, a true statesman and a wonderful colleague who was widely respected and will be greatly missed. My deepest sympathy to Nane and his family

— Tony Blair Institute (@InstituteGC) August 18, 2018
Kofi Annan, former @UN Secretary General's indelible contributions to humanity will not be forgotten. He was a global statesman deeply committed to a fairer & more peaceful world. My condolences to his family & people of Ghana. He will be sorely missed.https://t.co/DGoccgpOEx

— Atiku Abubakar (@atiku) August 18, 2018
Kofi Annan was a guiding force for good. I join the world in mourning his loss. In these turbulent and trying times, his legacy as a global champion for peace will remain a true inspiration for us all. https://t.co/psJ9viPIeu pic.twitter.com/SKfBk5zaY2

— António Guterres (@antonioguterres) August 18, 2018
The Government and people of Ghana, First Lady Rebecca and I are deeply saddened by the news of the death, in Berne, Switzerland, of one of our greatest compatriots, Mr. Kofi Annan. 1/7

— Nana Akufo-Addo (@NAkufoAddo) August 18, 2018
"Sad to hear of the death of Kofi Annan. A great leader and reformer of the UN, he made a huge contribution to making the world he has left a better place than the one he was born into. My thoughts and condolences are with his family." - PM @Theresa_May

— UK Prime Minister (@10DowningStreet) August 18, 2018
"Kofi Annan was a guiding force for good. It is with profound sadness that I learned of his passing." - @antonioguterres

Former @UN Secretary General and Nobel Peace Laureate Kofi Annan passed away on Saturday, 18 August. Statement: https://t.co/YkcMqTk0qI pic.twitter.com/DdYbVW6MT5

— UN Geneva (@UNGeneva) August 18, 2018
Remembering wonderful times in Ghana with Kofi Annan - a titan of diplomacy and a huge loss to humanity. Knowing him was a great gift. RIP #KofiAnnan pic.twitter.com/B8HpJoomNp

— (((Jon Benjamin))) (@JonBenjamin19) August 18, 2018
???? Sad day for Africa & the World. Ghana has indeed lost an icon. Kofi Annan lived a life worth celebrating. A true inspiration to millions around the world, a man of peace & class.
And the greatest champion of the Mfantsipim dream. God keep your soul Sir ?? pic.twitter.com/D6f8EyM9yJ

— MFANTSIPIM (@KwabotweOnline) August 18, 2018