Why ask citizens to find missing girls when CID boss is your 'informant' - IMANI boss mocks Info Minister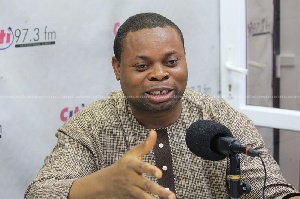 Executive Director of the IMANI Africa, Franklin Cudjoe, has challenged Information Minister's competence after he urged Ghanaians to assist police in the search of the missing Takoradi girls.
Franklin Cudjoe who is among the many demanding the resignation of COP Maame Tiwaa Addo-Danquah for her statement about the missing girls questioned why Kojo Oppong Nkrumah has solicited help from the public since the CID boss assured the public of the missing girl's whereabouts.

CID boss, Maame Tiwaa Addo-Danquah in April announced at a conference that the police knew where the missing girls were.

She was confident of putting the saga to an end while urging the public, especially families of the victims, that "they are safe...very soon they will be brought back home."

Families of the missing girls questioned why the police failed to disclose the information to them before going public while the Attorney-General chastised her actions which she said could put the lives of the girls in danger.

Information Minister Kojo Oppong Nkrumah at a press conference recently insisted that the matter needed a collaborative effort in rescuing the girls.
Thus, he called on citizens to inform the police on any information relevant to saving the girls.

But Franklin Cudjoe believes the minister shouldn't be asking such of the ordinary Ghanaian since the police had created the assertion that they know where to find the girls.

He stated in a Facebook post, "I wonder why the information minister is asking us ordinary citizens to help locate the missing girls, when the prime informant at this stage is the CID Boss. . Huh"

Below is a screeshot of his post"