Why can't a British citizen withdraw his money deposited at a Ghana bank without a Ghana card?, Dr. Bawumia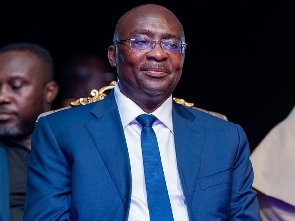 I have just been informed by a British-naturalised Ghanaian citizen of his sad encounter at a bank in Kumasi on Tuesday, 16 May 2023. His sad encounter with a cashier, an Operations Manager and a policeman at the bank went as follows.
This naturalised British citizen of Ghanaian origin deposited about Ghc12,000 with the bank over seven years ago when he went to Ghana on holiday. He used his British passport as his identity when opening the bank accounts and making the deposit. It was acceptable with the bank without issues raised.

However, when he returned to Ghana about four weeks ago and needed money urgently to purchase his expensive medical prescription drugs that he cannot do away with, he called at the bank, but only to be refused the withdrawal of his own money.

Both the cashier and the Operations Manager insisted that without providing a Ghana Card, he can't withdraw the money.

As he kept insisting on being allowed to withdraw his money for urgent purpose, they classed him as being a nuisance, then called in a gun-toting police officer who ordered him to leave the bank premises without further delay.

Exchanges of words went on until the cashier showed him on the computer how any process taken to withdraw the money for him gets stuck at a point where they were required to put in his Ghana Card number without which the system does not allow the bank to proceed any further with the withdrawal process.
Why has the Ghana government made it obligatory that without the presentation of a Ghana Card in your name, you cannot withdraw your money from the bank, let alone, open a bank account?

Fair enough, every Ghanaian must possess a Ghana Card for obvious reasons. However, is it required of a visiting foreigner to compulsorily own a Ghana card if the person is not coming to reside in Ghana?

The person in question opened his bank account when the possession of Ghana Card was not an obligation.

Why can't there be an exception in such critical situations to allow depositors to withdraw their money using the very foreign identity documents used to open the accounts?

Again, I understand there is only one centre in the whole of Ashanti Region where one can go to procure for themselves a Ghana Card at a fee of Ghc280.00. At this centre, the queue of those seeking Ghana Card snakes for several tens of hundreds of metres in the scorching sun without anywhere to sit, even if, you are physically disabled as in the case of the man in question.
At the Ghana Card centre again, some self-styled contractors are understood to come out from the office shouting, who has Ghc400.00 to pay to be given priority? Those able to afford that sum are taken inside the room ahead of their colleagues in the queue to be issued their Ghana Card.

Corruption is clearly going on there if what I have been told is nothing, but the absolute truth.

Going back to the main topic, why has it become so stringent that without the provision of a Ghana Card as your identity, being a non-resident foreigner, you cannot withdraw your money you deposited at a bank in Ghana years ago using your foreign identity documents as your proof of identity?

Could vice president Alhaji Mahamudu Bawumia explain this to me and again, tweak the rule a bit to allow those that deposited their money using foreign identities to be able to withdraw the money and or, close their accounts in such critical situations as that of the man in discussion?

There are exceptions to every rule in exceptional cases so this must apply in situations as described above.
Even if you are compelled by the urgency to go for a Ghana Card, as unwilling foreigner as you may be, look at the long one 'logo logo' line that you have to join without any hope of getting served for possibly days.

Dr. Bawumia, please use the same digitisation and digitalisation to facilitate the withdrawal of deposits made at the Ghana banks when their owners used their foreign national identity documents such as French, British, German or American passports as proofs when opening the accounts.

I look forward to seeing changes made to permit such foreigners to withdraw money and close their accounts.

In the case of the man, he could not withdraw the money despite his health condition.

What is going on in my native country Ghana?
I don't expect anyone to bring politics into this reported issue but rather, finding solutions to the problems brought about by implementation of new policies and programmes tailored to make life easier and better, thus, the digitisation and digitalisation.

"Basically, digitisation means data and documents from the analog format, to the digital format. For example, taking a physical book, scanning it ... while digitalisation is all about moving existing processes into digital technologies". – going paperless by using computers.