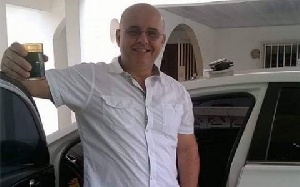 The Movement For The Protection Of Local Entrepreneurs (MPLE) has warned Lebanese journalist based in Ghana, Fadi Dabbousi, to stop attacking innocent local businessmen and entrepreneurs.
The group wondered why Fadi is shamelessly defending his fellow compatriot in the Mawarko 'pepper scandal' but at the same time destroying genuine Ghanaian businessmen.

A worker at Marwarko Restaurant had her face dipped into a bowl of pepper by her Lebanese supervisor some weeks ago. The case is currently at an Accra High Court.

"Ironically, Fadi, whose numerous illogical articles threaten the survival of Ghanaian businesses, is the person supporting Mawarko Restaurant over its recent inhuman 'Pepper Attack', an act that has been condemned by all loyal citizens of this country, including some statesmen", a statement signed by the Convener of the Movement, Patrick Duah Agyeman indicated.
According to the statement, "in one of his vile articles, he claimed that the widespread condemnation of the assault had the potential of scaring investors and that the 'unjustified' attacks against Marwarko could cost over 400 jobs in the country.

Mr. Dabbousi went on to wear black attire to mourn and sympathise with Mawarko, with the lame excuse that the company was being vilified unnecessarily by the media and the general public"