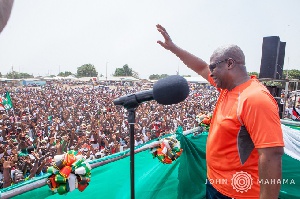 Former President John Mahama's aide, Joyce Mogtari, has said that her boss' Obinim sticker remarks were mere jokes and should not be taken serious.
Earlier, a leading member of the New Patriotic Party (NPP) upon hearing the Obinim Sticker stuff retorted that the former President should be serious and stop the jokes.

Politics is serious business and should not be laced with such unnecessary pranks. Failure to adhere to this rule will reduce the source of the pranks to a joker who should never be taken serious even if he is a former President and a frontline politician.

One of the factors which accounted for the defeat of the NDC in the last elections was because the flag bearer turned himself into a film star. Although this was shot down by pro-Mahama elements, serious and credible observers of the political plane would agree with this fact.

Under the circumstances, we are unable as are others, to determine when the former President is joking and when he is not. It would appear also that he joked so much with the rather serious business of governance that his grasp of the throttles loosened. No wonder we were sent to the precipice and but for the electoral victory chalked by the NPP it could only have been conjectured where we would have been today.

We can recall easily when the former President on umpteenth occasions, avoided issues and mimicked his main competitor then flag bearer Akufo Addo. At the time that he mimicked Nana Akufo Addo's voice, slanging his words like 'ladies and gentlemen,' cultured Ghanaians wondered what kind of President would descend to such depths of irresponsibility and disregard for etiquettes.
He knew in his heart of hearts at the time that he was dealing with a President in waiting yet decided to be so vulgar in his conduct of the campaign sometimes lying about issues just to score political points. Unfortunately, discerning Ghanaians were observing and on the day of reckoning took a momentous decision.

We have observed the pains his aide, Ms. Joyce Mogtari, is taking to clear the name of her boss out of the mud that he has unwittingly gathered in the course of unleashing his mostly drab jokes.

Humorous or witty bits in remarks are not disallowed but when these are stretched beyond intolerable levels and indeed become features of not ordinary persons but politicians of high standing in society, then queries can justifiably be raised.



Which of the many nasty things he said about his political opponent Nana Akufo Addo when he was a flag bearer of his party and now as President passed for jokes and which were serious and therefore credible?
When pains are taken to explain that remarks passed are jokes and should be taken as such and not otherwise, it means the originator must cease being naughty as he is not cut for such pranks.

In any case, Ghana under his watch suffered so much economic tribulation that jokes at this time of healing can only irate Ghanaians.

It was no joke when Nana Akufo Addo promised to bring free SHS to Ghanaians and to confine dumsor to the chapters of history. And many more.

When former President John Mahama, however, makes promises, they are mere jokes not meant to be taken serious.