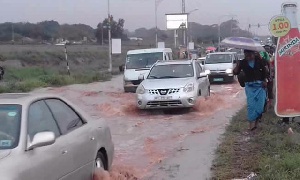 We have not entered the rainy season proper, yet the warnings on the wall are showing signs this year's rains will be heavy and will intersperse with strong winds.
But, if the rains we are seeing currently witnessing, is anything to go by then one would not be wrong in cautioning all of us to brace ourselves for more heavy downpours.

Yesterday dawn parts of Accra witnessed heavy downpours.

The almost three-and-a-half-hour rain interspersed with strong winds caused some damage in various parts of the national capital, which experienced the rains.

As usual the cry was loud in flood-prone areas whose residents always had to bear the brunt of the rains if the rain is light.

The rains also made some untarred roads difficult for cars to ply.
But the question often asked anytime we are entering into the rainy season proper (May-June) is that: are we prepared for the rains?

We often ask this question, bearing in mind what the rains did and can do to our regional capitals, especially flood-prone places.

In fact, nobody needs a soothsayer to tell us that we are nowhere near ready for the rains this year.

We at Today make the above statement because as a country we have not adequately done the things that will prevent floods in our regional capitals.

And so therefore, we should be prepared to suffer the consequences!
It thus until we put in place measures we experience floods its attendant effects in various parts of the country.

However, what we are praying against is the loss of lives. It is sad that we have not changed our attitude; we still prefer to be hit by disasters instead of putting in place measures that can help prevent such occurrences.

The interesting thing however, is that we know what steps to take to prevent some of these disasters.

It is in the light of the above that we draw closer to the rainy season proper Today wants to use this medium to charge our city authorities and all the relevant stakeholders to ensure that we prevent some of these flood disasters.